ROBERT GREENIDGE
Arranger, Composer, Steelpan and Recording Artist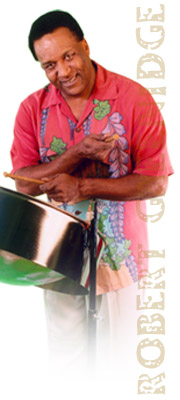 Robert Greenidge was born in Success Village, Laventille, Trinidad, West Indies. He began playing under the direction of his uncle, Carl Greenidge, a renowned arranger and tuner. At eight he joined the Savoy Steel Orchestra where he was taught scales and chords on a blackboard. Since he possessed an ear for playing all types of compositions, he was recruited by The Desperadoes Steel Orchestra at 18. Under the musical guidance of Rudolph Charles, the bands leader, and the great Emmanuel "Corbeau Jack" Riley, Greenidge's solid performing skills were shaped.
At 17 he performed at the First Negro Arts Festival in Africa, the next year, 1967, at the Montreal Exposition in Canada, followed by tours of London, Zambia, and New York in 1968. In 1970 he represented Trinidad & Tobago as a soloist and member of the Trinidad National Steel Orchestra. In 1971 he mastered composing and arranging at the Third Street Musical Conservatory in New York.
Greenidge returned to Trinidad in 1978 to work with Rudolph Charles, who had designed a six pan instrument called the Marshall Tone requiring hand and foot coordination, dexterity, and speed. Continuing to play with Desperadoes and becoming their arranger he performed with them in 1991 in their winning performances of the "Bartered Bride" opera and his first place Panorama calypso composition "Musical Volcano" at the Trinidad & Tobago Steel Orchestra Classics Festival, followed by his playing with them in Carnegie Hall. Greenidge arranged many Panorama tunes for Desperadoes including three first place Championships:
In 1993 he won the Trinidad & Tobago Silver Humming Bird Medal (for Culture). He now arranges for the young band, Pan Knights, for Panorama in Trinidad.
In the U.S., Robert toured California and Nevada with Music Makers, members of Desperadoes, and in 1978 became their leader and renamed them the L.A. Desperadoes. From 1978 to 1983 he recorded with and toured the U.S., Africa, Hawaiian Islands, Europe, and Australia with Taj Mahal and soloed with him in 1991.
He had the opportunity to record an album with Jimmy Buffett, toured with him to promote the album, and has been performing and recording with him from 1985 to the present as a member of the Coral Reefer Band. In 1992 He performed for President Clinton's Inauguration and again for President Clinton's surprise birthday party at the White House in August 1995.
Robert performed several years at Trinidad's Pan/Jazz Festival with such jazz greats as Tommy Flannigan and Paquito DeRivera. He has played and /or recorded with Ralph MacDonald, Earth Wind Fire, John Lennon, Ringo Starr, Helen Redding, Harry Neilson, and Barry Manlow, and has the honor of recording perhaps the most well known pan solo of all time on Grover Washington Jr.'s "Just the Two of Us", produced by Ralph MacDonald.
His Film sound track credits include: Brothers, Working Girl, Ghost Busters, Cool Runnings, 48 Hours, Champs, Hard to Kill, and Sister Kate. TV appearances include Jackson Five Special (1977), A Man Called Sloan with King Erickson, Solid Gold with Stephen Bishop, Saturday Night Live, Love Boat, Fantasy Island, Caribbean Mystery, Fall Guy, Babes, Dynasty, Arsenio Hall, and the Tonight Show yearly ( both Carson and Leno) with Buffett to the present.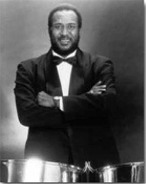 Commercials include MacDonald's (European Market), 7-UP, Jus Juice, and Corona Beer (with Taj Mahal).
Mr. Greenidge has performed and conducted clinics at Brooklyn College, University of North Texas, Northern Illinois University, and the International Percussive Arts Society.
Robert recorded several CD's with Michael Utley: "Mad Music", "Jubilee", "Heat", "Club Trini", "Back in Town", and "Margaritaville Café Late Night Live". He recently released his first solo CD "From the Heart".
In the execution of his solos, Robert Greenidge's gifted touch on his steelpans, constructed by Tony Slater and fined tuned by Bertie Marshall, creates a euphoric sound, while the dexterity and balance of his hands are a delight to behold, with ravaging improvisations and beautiful symphonically complex melodies in any genre of music. He is a volcano of energy that can transport audiences to a higher plane, leaving them in silent awe following his last notes before springing to their feet in a jubilant standing ovation.
Robert can be booked with Club Trini or The Robert Greenidge Band, as a soloist, or for Master Classes and clinics.
STEEL ISLAND P.O. Box 3223 AUSTIN, TX 78764
800-525-6896 U.S.A. and Canada
Phone / Fax (512) 266-7995
email: pan@steelisland.com
Created by Viper Sites All pages copyright Steel Island © 2000. All Rights Reserved