| | |
| --- | --- |
| | ARTISTS & CLINICIANS |
LENNARD MOSES
Educator, Artist, Clinician, Lecturer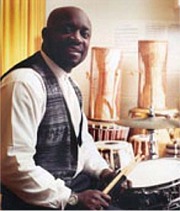 Lennard V. Moses - born in Port of Spain, Trinidad, grew up in Laventille, and was a member of the legendary Desperadoes Steel Orchestra - is Associate Professor of Music and Director of Percussion and World Music at Central State University in Wilberforce, Ohio. He is an affiliate faculty for the Center of African Studies and has taught and performed at the Summer Honor's Institute in Central State. Lennard also teaches world music at Cedarville University and is music consultant for the Mound Street Academy in Dayton, Ohio.
His invitations include serving as guest artist, panelist, lecturer and clincician with percussion and world music ensembles and steelbands. He has had professional performing experience and speaking engagements throughout the United States, Canada, Barbados, Trinidad and Tobago, England (including Royal Albert Hall and on BBC Television) and Indonesia, and has been invited twice to perform at the Percussive Arts Society International Conveniton. Lennard collaborates in cross-discipline teaching and performance for teachers' in-service workshops. He composed the theme music for WHIO television special, "Alex Haley: An American Hero", has had several of his compositions published by Ludwig Music Publishing Co., and has been published in the journal Percussive Notes Research Edition.
Lennard's university clinics include Northern Illinois University, Indiana State University at Terrehaute, Akron University, Ohio State University, University of Illinois, Earlham College, Western Illinois University, Whitenburg University, University of Dayton, Kent State University, Wright State University, Cedarville University, Willberforce University, Antioch College, University of Pittsburgh, and a mulitutde of high schools, junior highs, elementary schools and charter schools.
His research interests and performance areas include African, African American, Latin American, and Caribbean music as well as cultural studies.
EINSTEIN BROWN
Performing and Recording Artist, Actor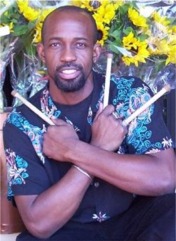 The sounds of Reggae, Calypso, Jazz and Funk collide and entwine with the feel of a Caribbean adventure in Trinidad in the music of Einstein Brown. Whether performing solo or with his band Sapadilla, he has made his music, a Caribbean fusion explosion, into an art form, unique and upbeat.
Einstein was born in Trinidad. Surrounded by some of the great West Indian musicans while growing up. In 1979 he joined the Invaders Steel Orchestra and soon was in demand by other steelbands including the Woodbrook Modernaires. He accepted an offer that year to play aboard a cruise ship, was called to do a commerical for Heinekin Beer, and eventually migrated tot he U.S. in 1982, where he played with the Trinidad Steelband and the L.A. Desperadoes and started his first band called Caribe. In 1984 he formed Sapadilla, recorded his first single, and in 1991 released his first album "Humanize the Earth" on which he collaborated with Eric Gale.
Since that time Einstein has appeared in numerous television shows, feature films, and videos. He has performed for celebrities including Debbie Reynolds, Carol Burnett, and Michael Jackson, and has performed with Chaka Kahn in a video for MTV. He has performed in Costa Rica, Trinidad, Korea, Hawaii, Nassau, Haiti, Jamaica, St. Thomas, and Japan.
His performances include: U.S. Olympics, Los Angeles Grammy Awards 1995, Greenpeace Pan African Film Fest, San Diego Wild Animal Park Festival of the Mask, United Way Golden West Foods, Watts Tower Drum Festival, Princess Cruises, Sawdust Festival, Norwegian Cruise Lines, Jamba Juice Inc, Taste of Orange County, Jamaican Tourst Board, House of Blues, The Galaxy Theater, John Anson Ford Theater, Orange County Fair, and Jazz at Drew.
Films include "And God Created Woman", Imax film: "The Living Sea", "Hard to Kill", " Dolphins", Marked for Death", and "Meet the Fockers". Television shows include: "Star Trek Voyager", (music and acting) "Perfect Strangers", "Who's the Boss", and the Theme for "Jeopardy". Commercials include: Wrigley's Gum, Caribbean Mystery, Budweiser, Canada Dry, Heineken Beer, and Bank of Austria. Albums / C.D's include his own band Sapadilla - "Don't Worry Be Happy", "Humanize the Earth", and "Hop on de Good Foot"; New Caribbean - "Calypso Reggae" and "Fire in de Area"; The Art of Sax -"So Easily"; Phase II Pan Groove -"79 is Mine"; Black Eyed Peas -"Karma"; Baby Rasta -"Cahuita Town"; and Len Boogsie Sharpe - "Fresh Air". Soundtracks include: Imax - "The Living Sea" and "Meet the Fockers";
Performances at educational institutions include: University of California Los Angeles, University of La Verne, Los Angeles Cal Poly, Pomona, Santa Barbara Goldenwest College, Irvine Chino College, USC Saddleback College, and numberous high school "Grad Nights" (annually).
STEEL ISLAND P.O. Box 3223 AUSTIN, TX 78764
800-525-6896 U.S.A. and Canada
Phone / Fax (512) 266-7995
email: pan@steelisland.com
Created by Viper Sites All pages copyright Steel Island © 2000. All Rights Reserved